A new and unique expedition in the Chalten area.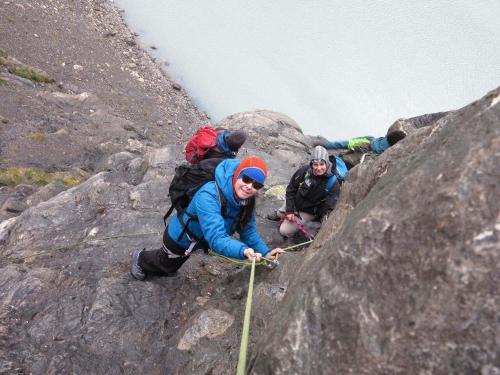 We invite you to a new ice trek in the Chalten area ?a trhilling experience among rocks and ice on Cagliero Glacier.
Special rate for Puesto Cagliero guests is US182 dollars, includes packed lunch. Per person, taxes included, departure is 10 am from Puesto Cagliero, returning at 5 pm.
Cost for others is US245 dollars, transfer is U$22 dollars. Per person, taxes included. Not applicable for December 25th and January 1st. Does not include entry fee to Reserva Los Huemules. More information at http://www.fitzroyexpediciones.com.ar/daily-excursions/
The Ice trek is organized by Fitz Roy Expediciones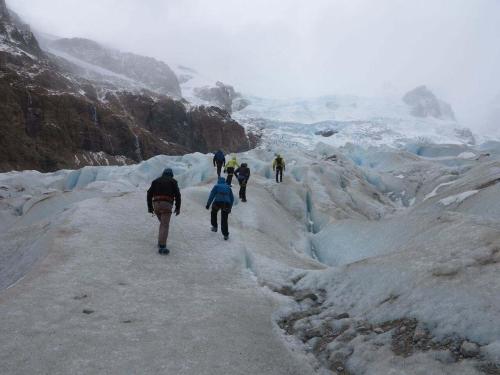 The expedition is organized by Fitz Roy Expediciones, guided by 2 highly experienced mountain guides. Technical mountain equipment is included (crampons, harnesses, helmets, etc.)




 
Difficulty: moderate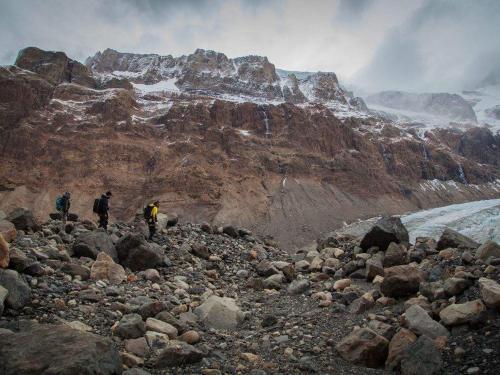 Total walking-climbing time is 6 hours.
Degree of physical requirement B - Moderate
For trekkers coming from Cagliero refuge, the expedition begins starts at 10 am. A 20 minute walk will take you to the meeting point, el domo amarillo, where you will meet the guides who will give you your equipment and give you instructions.

Then you will skirt the northern edge of the Laguna Diablo on easy terrain, but irregular until the beginning of a Via Ferrata (sector prepared with steel cables and artificial steps for hikers to move autonomously and self secured with harnesses specially designed for this purpose). 

The total length of this section is 1 km, with 200 meters of altitude,  the crossing becomes increasingly more fun with views to the Laguna del Diablo Valley and river of the same name. About an hour will take us to the viewpoint of the glacier, thence north, we can see the unexplored Glacier Cagliero Sur (950 m asl), which for years remained alive thanks to its orientation and accumulation of snow from Mount Neumeyer.

From the viewpoint, a short walk leads to the front of the glacier where the guides distribute crampons to the boots of hikers, to start the third part of our program - the hike and trekking on the glacier itself. iI the weather is kind we eat lunch on the glacier. The average stay on the glacier is about 2 hours, depending on weather conditions and the physical level of the group. The return will be made on the same path back to the arrival at 16.00 to Puesto Cagliero.